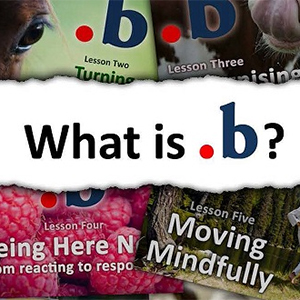 What is .b? It's a fun and engaging eight-session mindfulness course for 14-18 year olds. The program aims to give students the life skill of mindfulness in order to:
feel happier, calmer, and more fulfilled

get along better with others

help to concentrate and learn better

help with coping with stress and anxiety

improve in music and sports abilities
Cost: $150 for the eight-week course
Contact 844-800-0788 to register
Schedule of classes:
Regional Program Offices
10350 E. Dakota Ave
Denver, CO 80247
Facilitated by Peggy Sheehan, MD and Bev Jacobson, PhD

February 23-April 13, Thursdays
4:30-5:30 p.m.

June 8-July 27, Thursdays
4:30-5:30 p.m.
For more information, please visit the Mindfulness in Schools website.