Hannah Beggs, LMT
Where I practice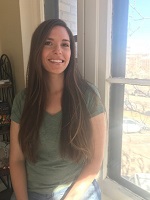 Midtown Medical Offices
1960 N. Ogden St, Suite 100, Denver, CO 80218
Monday-Friday, 9 a.m. to 1 p.m., 2-5:30 p.m.
To schedule an appointment, call: 844-800-0788
About Me
I spent most of my childhood growing up in Steamboat Springs, CO. There, I gained a true love and respect for the natural world by hiking, snowboarding, and playing in the Yampa River. In 2010, I moved to the Denver area and enrolled at Colorado School of Healing Arts where I received my 700-hour massage therapy certification and licensure in September 2011. Directly after that, I completed their Associate of Occupational Studies program in June of 2012. My AOS degree includes advanced training in Neuromuscular Therapy and Oncology/Medical Massage.
About My Practice
Providing people with therapeutic massage gives me a genuine sense of joy to be able to witness the anatomical, physiological, mental, and emotional responses and shifts the human body can go through from touch alone. I believe that body awareness and patient knowledge can set a foundation to allow the body to heal from within. I typically use a combination of techniques to cater a patient's unique issue(s), body, and state of being. I meet each patient where they area at. A session with me may include Swedish Massage, gentle Deep Tissue, gentle Neuromuscular Therapy (trigger point therapy), Medical and Oncology Massage, and/or Healing Touch.

How I thrive

Outside of work, most of my time is spent with family and friends, walking my dogs, going to the movies, enjoying good food and drinks, and playing in nature.