Borden Smith, DC
Where I practice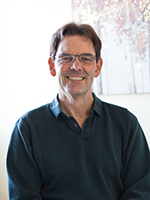 Lakewood Medical Offices
8383 W. Alameda Ave, Lakewood, CO 80226
Monday-Friday, 9 a.m. to 1 p.m., 2-5:30 p.m.
To schedule an appointment, call: 844-800-0788
About Me
Starting my first chiropractic practice in Vermont in 1986 after graduating from Life Chiropractic College in Marietta, GA, I have now been in active practice for more than three decades. I have lived in Colorado since 1992, running a private practice for many years in Evergreen. I was also an instructor at the Colorado School of Healing Arts for 8 years. I have two children from a first marriage and two step children from my second marriage, as well as two grandchildren.  I stay very active in a variety of activities, but road cycling the mountains is my favorite.
About My Practice
Providing quality chiropractic care is a driving force within me. I truly enjoy my patients and seeing them recover from pain and dysfunction that has been interfering with their full enjoyment of life is very fulfilling for me. I use a number of different chiropractic techniques and can accommodate patients of all age levels, even those who are very nervous about chiropractic. I enjoy all aspects of working at Kaiser Permanente; I appreciate the multifaceted approach to health and wellness that KP offers.  

How I thrive
Living in Evergreen allows me access to outdoor mountain activities, especially hiking with my wife and my dogs, and mountain cycling.  I do what I recommend to my patients: exercise regularly, laugh as much as possible, eat a reasonably healthy diet (not too draconian), and engage in healthy relationships. Having enough quiet time is essential as well. I treasure my times that I spend with just my wife, Lynda, no matter what activities we are engaged in, whether we're at home or travelling the country and the world.