Eva Levy Englander, LAc
Where I practice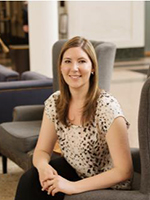 Highlands Ranch Medical Offices
9285 Hepburn St, Highlands Ranch, CO 80129
Monday-Friday, 9 a.m. to 1 p.m., 2-5:30 p.m.
To schedule an appointment, call: 844-800-0788
About Me
Helping people achieve greater health and well- being by providing acupuncture is my life's work. I have over 9 years of clinical experience and earned my Masters of Science in Traditional Oriental Medicine (MSTOM) at Southwest Acupuncture College in Boulder, Colorado. This four-year program consisted of over 3,000 hours of didactic and clinical education. I am nationally certified as a Diplomate in both Acupuncture and Chinese Herbology by the National Certification Commission for Acupuncture and Oriental Medicine (NCCAOM). I also received training in Kunming, China at the Yunnan Traditional Chinese Medicine Hospital. There, I trained with Chinese doctors, observing the assessment and treatment of patients in a traditional Chinese setting.
About My Practice
I am open and honest in my practice and enjoy helping people live more fulfilling lives with less pain and discomfort. I am trained to treat a wide variety of conditions, including but not limited to: Low back pain, sciatica, neck pain, headaches, arthritis conditions, knee pain, menopausal symptoms, infertility, anxiety, and depression.

How I thrive
I thrive by doing Pilates, taking trips to mountain hot springs, and playing with my little dog, Snoopy.