John Waring, DC
Where I practice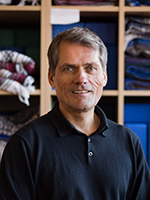 Highlands Ranch Medical Offices
9285 Hepburn St, Highlands Ranch, CO 80129
Monday-Friday, 9 a.m. to 1 p.m., 2-5:30 p.m.
To schedule an appointment, call: 844-800-0788
About Me
I received a bachelor of science from Michigan State University in 1981, and received my chiropractic training and degree at Life Chiropractic College in Marietta, Georgia, in 1985. I have been practicing chiropractic in the Denver area since 1986. I was selected as a participating provider in a chronic neck pain research study performed in conjunction with doctors of chiropractic and medical doctors at the University of Colorado Health Sciences Center. I have also acted as a proctor for the Colorado State Board of Chiropractic Examiners.
About My Practice
My practice focuses on neuro-musculoskeletal disorders, including sports injuries.

How I thrive
Water and snow skiing are two of my favorite activities. Also, I play competitive tennis and enjoy cycling.