Lauren Winer, LAc
Where I practice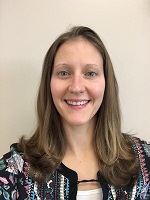 Baseline Medical Offices
580 Mohawk Dr, Boulder, CO 80303
Monday, 9 a.m. to 1 p.m., 2-5:30 p.m.
To schedule an appointment, call: 844-800-0788
About Me
I graduated from Michigan Technological University in 2006 with a Bachelor of Science in Civil Engineering. After working for four years as an engineer, I decided to reconnect with my childhood dream of helping people through medicine. That connection was made possible by studying Traditional Chinese Medicine at Southwest Acupuncture College in Boulder, CO. I completed my Master of Science in Acupuncture in 2014 and have been working directly with patients since 2012. I am also a DONA Certified Postpartum Doula, and am well versed in dietary therapy.
About My Practice
I practice a very traditional style of acupuncture called Traditional Chinese Medicine (TCM), however I have training in Japanese acupuncture, trigger points, and Dr. Tan style acupuncture. I have extensive experience with pain, sports injury, aging populations, and women's health, among other things. My style is gentle, yet effective and I design my treatment protocols to be as efficient as possible utilizing the minimal number of needles. I encourage my patients to be involved in their healing and often include dietary and lifestyle suggestions as part of my treatments.

How I thrive
I am originally from Michigan, so I love spending time outside in the warm Colorado sun! I play outside with my family and friends as much as possible- anything from hanging out at a park to skiing in the mountains. The mini adventures and close community are my foundation and make me feel alive!
I love to run and hike, and both serve as a meditation for me. When I'm not outside, I can almost always be found in the kitchen (mostly washing dishes from my growing family), but also cooking! I have a constant obsession with all things food and I'm always educating myself on dietary wisdom. Fueling my family through healthy food is a true passion for me.