Mistina Hufford, DC
Where I practice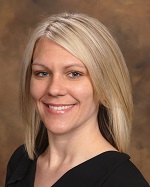 Briargate Medical Offices
4015 Briargate Pkwy, Suite 125 Colorado Springs, CO 80920
Monday, Wednesday, Thursday, 8:30 a.m. to 1 p.m., 2:00 p.m. to 5:00 p.m.

Pueblo North Medical Offices
3670 Parker Blvd, Suite 200 Pueblo, CO 81008
Tuesday & Friday, 8:30 a.m. to 1 p.m., 2:00 p.m. to 5:00 p.m.

To schedule an appointment, call: 844-800-0788
About Me
I earned my Doctorate in Chiropractic Medicine from the University of Western States in Portland, OR. I furthered my education with a Master's degree in Functional Medicine and Nutrition. I am incredibly privileged to be an integral part of the Kaiser Permanente team. I am committed to assisting others on their path to experience balanced living and optimal health. I moved to Colorado to be closer to family and to enjoy the beautiful mountains.
About My Practice
I believe in the whole-body approach to overall wellness to help optimize a person's potential. I approach chiropractic and wellness with a strong emphasis on nutrition and lifestyle. Balance is key to maintaining performance and longevity. I utilize a functional approach with respect to how the spine, nervous system, and soft tissue are truly integrated. I practice diversified, activator, Cox flexion distraction, and Thompson-drop techniques.

How I thrive
I embrace mindfulness, which guides me emotionally, physically, intellectually, and professionally. I thrive with family, friends, sporting events, outdoor activities, traveling, local cuisine, and living a healthy lifestyle. I grew up competing for USA Gymnastics. I enjoy hiking, mountain biking, skiing, camping, rock climbing, and rafting.