Nancy Bilello, LAc, RN
Where I practice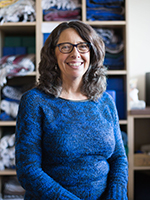 Smoky Hill Medical Offices
16290 E. Quincy Ave, Aurora, CO 80015
Monday-Friday, 9 a.m. to 1 p.m., 2-5:30 p.m.
To schedule an appointment, call: 844-800-0788
About Me
I was first introduced to acupuncture while living in Japan in the 1980's and was immediately fascinated by this medicine. I pursued studies back here in the States and graduated from the Colorado School of Traditional Chinese Medicine in 1998. I have been in practice since 1999. I treat all types of pain as well as women's issues (menopause, menstrual problems and infertility), anxiety, depression and digestive problems. I also earned a nursing degree from Nassau Community College in Garden City, New York, in 1988. I have seven years of oncology nursing experience at University of Colorado Hospital, and nine years in home health care for oncology patients and people with diabetic, respiratory, and cardiac problems.
About My Practice
I have a special interest in using acupuncture as a complement to oncology treatment, and am also experienced in treating chronic pain, internal medicine disorders, and women's issues.

How I thrive
When not at work I enjoy the outdoors – hiking, long walks and gardening. I also love to cook and spend time at home with my cats.